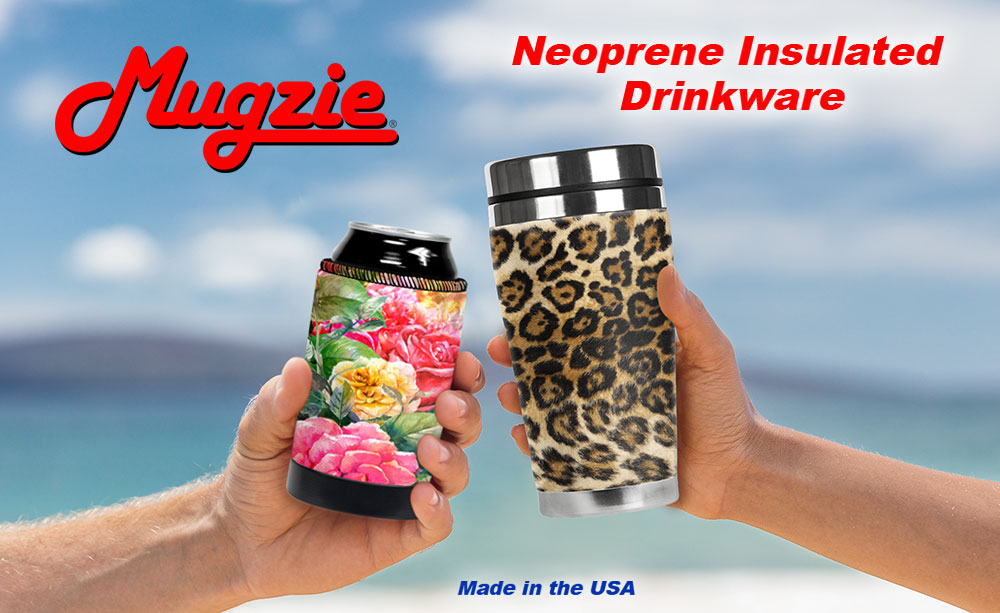 Mugzie brand travel mugs, cocktail shakers, flasks, can insulators, and drink cups feature the excellent insulation and water-proof properties of 1/4 inch closed cell neoprene wetsuit material.

The Mugzie's unique, hand-sewn fabric covers are made from 1/4 inch closed-cell neoprene and is covered with soft, water-proof polyester fabric. The stain-resistant cover is printed in hi-resolution and has full-wrap coverage.

Mugzie's have excellent insulating properties to keep beverages hot or cold. The cushioned cover affords a secure grip and eliminates condensation and sweating.

Mugzie products fit in most car cup holders and the counter-weighted, non-slip, bottoms provides stability.
The insulated covers are printed in a very colorful, high resolution printing process. The images are printed top to bottom edge to edge and 360 degrees around.
Decorated, sewn, and assembled in the U.S.A. Patented. Hand Wash.