Drink Coasters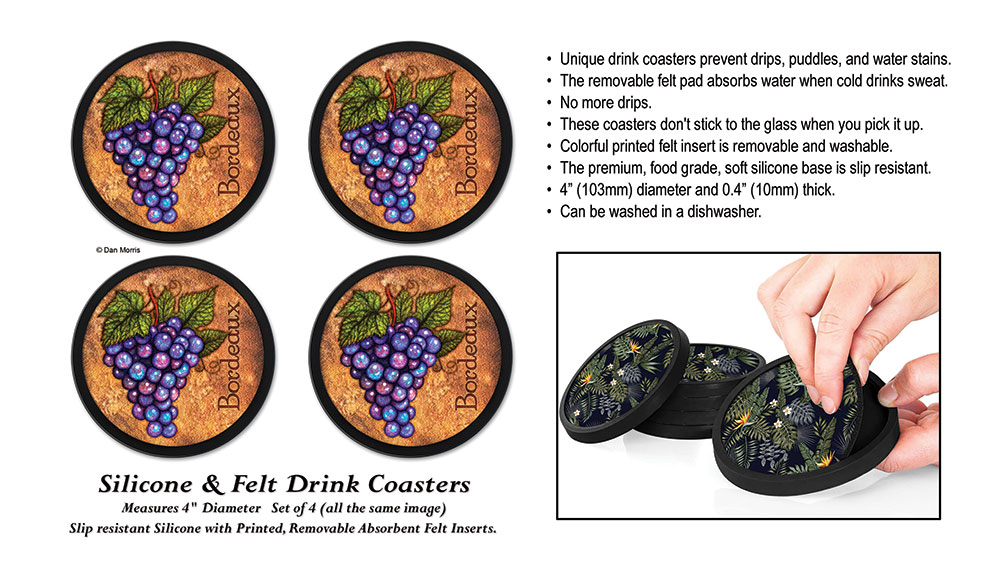 Set of four (4) unique printed silicone and absorbent felt drink coasters that prevent drips, puddles, and water stains to your fine furniture. Suitable for indoors or outdoors. Works great for hot or cold drinks. Perfect for high humidity locations.

Super absorbent removable felt insert absorbs condensation when cold drinks sweat. No more drips on your clothes or furniture from the bottom of the glass when you pick it up. These coasters don't stick to the bottom of the glass when you pick it up.

The entire silicone base, top and bottom, is 100% premium food grade silicone that will not scratch or mar any surface. Wood, stone, glass, plastic, granite, marble surfaces are all safe.

The soft silicone base has a special coating that is velvety smooth to the touch and has non-stick properties that prevents the attraction of dust. Our special coating prevents marks on your fine furniture that other, sticky silicone coasters are likely to do.

Silicone base and felt insert are both dishwasher safe or can be washed by hand. Colorful images are permanently imprinted on the felt. Sound deadening felt keeps it quiet when setting glass down.

Made in the USA by American workers. Perfect Christmas gift. Also makes a great gift for weddings, engagements, birthdays, house warming, Mother's Day or Father's Day.

Add some color to your plain boring drink coasters. 1,488 different colorful designs to choose from. Easily stackable when not in use. Size is 4" in diameter and 0.4" thick.